FPAD is a real-time farm management decision making tool that will do all the homework for you, enabling you to focus on your highest priority: achieving maximum yield potential in the most efficient and cost-effective way possible.
The Problem: Information Overload!
Working in the fields is just the tip of the iceberg for America's farmers. The hardest job begins after the crops are in: planning for the growing season ahead.
Every year, farmers face a complicated maze of information they must collect and analyze: county yield data; yield trends; pricing from the Chicago Board of Trade; production history; expenses for seed and fertilizer; estimated revenues; actual vs. expected stats; market fluctuations – the list is endless.
But perhaps most importantly, farmers must decide how much crop insurance to buy to protect their farms and families. Access to the right information – information that's current, accurate and consolidated into a single, comprehensive report – can make or break the year. Without it, farmers can't see where they've been and they can't see where they're going.
It's like farming blind.
The Solution: FPAD Developed by Farmers, for Farmers
Great American Insurance Group is pleased to offer an exclusive opportunity to policyholders of our Crop Division: access to an online business management tool, developed by farmers, for farmers. This real-time software solution "data mines" through all the various files and records farmers need and pulls them all together into a fully functional program that provides customized up-to-the-minute profit calculations unique to each farmer, 24 hours a day.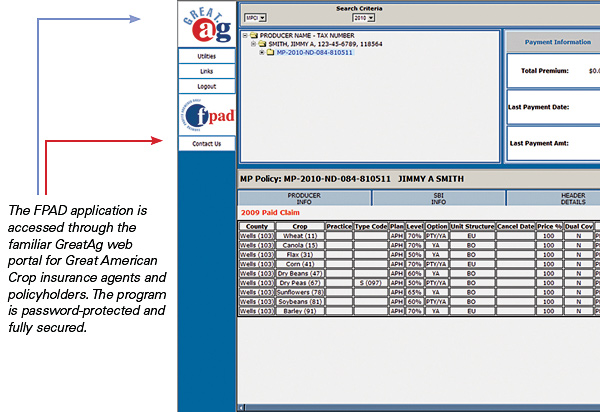 How Does FPAD Work?
The FPAD application is preloaded with a farm expense guideline module localized to a specific area through university data, which farmers can further refine with details from their own farm. The application is also preloaded with all of the historical yield history drawn from each farmer's insurance policy with Great American.
This data enables farmers to better understand their insurance policy and allows them to communicate more effectively with their agent. More importantly, it takes the guesswork out of insurance decisions. Coverage choices can be made confidently, based on hard data presented through a series of well organized screens.
Signing Up for FPAD
The FPAD solution is available ONLY to policyholders of Great American Insurance Group's Crop Division. myFPAD offers flexible payment options, listed below:
One full year Paid by Checking Account – $1,100 for one year (12 months for the price of 11)

One full year Paid by Credit Card – $1,125 for one year (12 months for the price of 11)

Month to Month by Checking Account – $100 per month

Month to Month by Credit Card – $105 per month