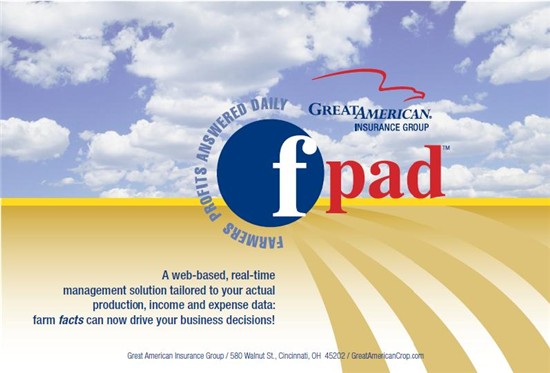 We partnered with Great American Crop Insurance to introduce to the agriculture industry the FPAD—Farmer's Profits Answered Daily (Click here for video overview). We provide a web-based, real time farm management decision making solution that is tailored to your actual farm production, income & expense data. The Fpad will do all the homework for you, so you can spend your time doing what you do best.
By utilizing this software solution, it starts with a pre-loaded farm expense guideline module localized to your area through University data. You won't need to guess at numbers, only refine them to your farm.
All you need is a crop insurance policy with Great American. When you log on the first time all of your historical yield data by farm, crop & field will be pre-loaded & ready for analysis. It will give you a better understanding of your policy and allow you to better communicate with your local agent. The recommendation that you & your agent come up with will be based on your personal farm numbers. No more guessing at what level or type of crop insurance to take.
There is also a grain marketing plan template complete with pre-determined price & time objectives coupled with interactive price charts & regular real-time web based video updates & commentary on how to properly integrate your crop insurance policy with your marketing plan. You will also have the option to tailor the marketing plan for use with your current advisor & their recommendations. Once it is set up you will automatically receivemarketing alerts via SMS texts, emails or web.
Making decisions is easy now that your policy choice is simplified, your cash flow projection is estimated & your marketing plan is in place. Utilizing various "what if" scenarios through different price & yield matrix's displays where the holes are in your marketing plan allowing you to make adjustments on the go. No need to decisions based on panic or emotion. The new Fpad solution will use your farm facts & profitability goals to help you make a truly informed decision, which always leads to increased profitability.
Today, with the uncertain & volatile markets, it is essential to develop, maintain & track your decisions. When you log on to the FPAD, your farm financial information & crop inventory is updated at the end of each day to the CBOT market. There are a number of easy to use reports that can be generated for analysis in spreadsheet format or in presentation format. Communicating your plan or decisions with business advisor's such as your banker, commodity advisor, crop insurance agent, business partner, financial consultant or accountant, can now be done with the click of a button.
(Click here for FPAD pricing)